The Board meets regularly on the 2nd Wednesdays of every even month.
The October meeting is the annual meeting.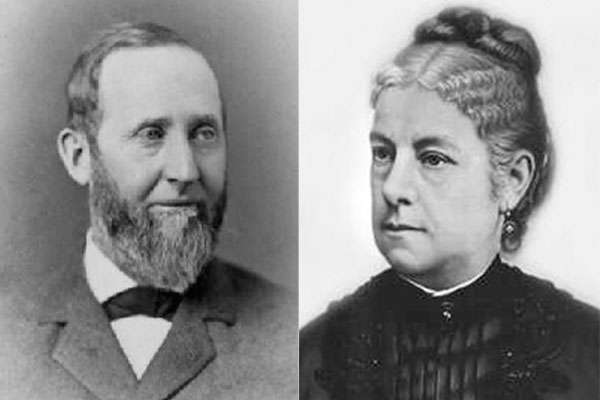 Jesse M. Smith was born on November 15, 1834 in Burrillville, RI to Aaron and Julia Smith. Mr. Smith married Mary E. Tinkham on August 23, 1855 in Rhode Island. Jesse was listed as a horse trader in the federal censuses and owned a livery stable in Oakland, RI. Jesse served as a senator in the RI General Assembly. He died on April 26, 1889 at the age of 54. His grave is located in Glocester, RI.
In 1894 Mary E. Smith of Harrisville bequeathed a sum of money and a parcel of land at the corner of East Avenue and Main Street to the Town of Burrillville to be held in trust until such time as a public library could be erected in memory of her late husband, Jesse. It took many years, but the town finally began construction of the Memorial Block, a three story brick commercial building.
This was planned to house various businesses and recreational facilities, including a bowling alley, an assembly hall, town offices, and a library room. The Jesse M. Smith Memorial Library was officially dedicated in the fall of 1906.
Welcome
The primary mission of the Jesse Smith Library is to serve as a full-service public library providing access to a wide variety of materials and services to meet the educational, informational and recreational needs of the community.
The slogan of our library is "Cornerstone of the Community." The library strives to be an integral and vibrant center for our community. We offer a wide variety of materials to check out including books, magazines, metal detectors, games, puzzles, binoculars and much more. We offer programs for ages birth to senior with several large scale muti-generational events. Whether storytimes for the little ones, teen laser tag, adult computer classes, glow in the dark mini golf or Waterpark Wednesdays, we have something for all ages. Our summer concerts are not to be missed.
We hope you visit us soon and take advantage of all the wonderful things your library has to offer.